Selvadresserende multikanals energimåler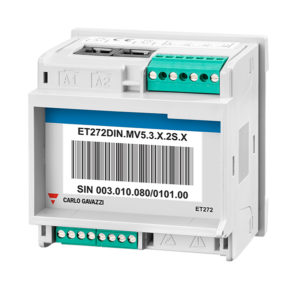 ET272: THE SELF-ADDRESSING ENERGY TRANSDUCER
Fast and error-free installation and commissioning for accurate and reliable multi-variable measurement and control.
Lainate, January 2018 – Carlo Gavazzi Automation, the international electronics group with activities in the design, manufacture and marketing of electronic equipment, today presents the new ET272 energy transducer.
Control of all the electrical parameters in critical load applications, such as data centres, requires a detailed monitoring system able to reach every single branch of the distribution system. In these applications the server rack cabinets are usually supplied by PDUs (Power Distribution Units), where different Carlo Gavazzi solutions can already be used (EM271, EM280, WM50), while power distribution based on power bus-bar trunking systems ("Bus-duct" running on the ceiling) is more and more used nowadays.
With the launch of the ET272 our aim is to improve our offering for the data centres market where the "Bus-duct" concept is applied to supply the IT racks, dramatically reducing commissioning time and installation cost.
In combination with our Energy Management web-server VMU-C EM, the ET272 provides an innovative and exclusive self-addressing solution in data centres applications, also when a high number of meters are installed and need to be quickly configured.
The VMU-C EM can set-up, manage and monitor the data from up to 80 ET272s. Part of our quick-fit series, the ET272 energy transducer can be connected in a fast and error-free way to the load under control by means of split-core miniature current transformer groups, via RJ12 connectors. The ET272 is equipped with a Modbus RTU port.
"The ET272 is the ideal solution for "bus-duct"-based data centres, and together with the high flexibility offered by the 96-channel branch analyzer WM50, our position in the market is considerably strengthened, providing different and complete branch circuit monitoring solutions" says Andrea Bernardi – International Product Manager. "With this launch Carlo Gavazzi proves to be a valuable partner to companies working in the design, building and/or managing the maintenance of data centres, both in the case of big web-farms (e.g. E-commerce, Search engine or Cloud service suppliers) and data centres of big companies (e.g. banks, insurance companies, etc.), of hospitals, universities, or wherever the control of multiple loads is crucial."
Developed by our Competence Centre in Italy, this energy transducer has been specifically designed for system integrators in data centre or critical load monitoring market applications and for cost allocation in big power distribution panels in building and light-medium industries.
Main technical features
• Equivalent to Class 1 (kWh) of EN62053-21 (ET272 w/o TCD)
• Equivalent to Class 2 (kvarh) of EN62053-23 (ET272 w/o TCD)
• 2 meters in 1: up to 2 three-phase loads
• 6 meters in 1: up to 6 single-phase loads
• Current measurement up to 400 A with external TCD_M multiple miniature split-core current sensor accessories or up to 10000A with TCDMM adapter
• Auto-detection of the primary current of the external CTs
• Single-phase variables: V, A, kW, kvar, PF
• Total energy measurements: total kWh and kvarh
• Protection degree (front): IP50
• Self power supply