Elektromagnetisk sikkerhetsbryter med separat aktuator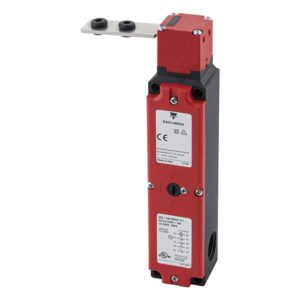 THE ESI ELECTROMAGNETIC SAFETY INTERLOCK WITH SEPARATE ACTUATOR
Enhanced safety and high protection in inertia machinery, leading to a considerable reduction in downtime.
Lainate, July 2017 – Carlo Gavazzi Automation, the international electronics group with activities in the design, manufacture and marketing of electronic equipment, today presents its new electromagnetic safety interlock ESI.
In the context of safety, interlocks prevent users from performing actions which are unsafe or minimize potential hazards by ensuring that the equipment is safe if there is any potentially hazardous operation.
For example, a guard may be interlocked to prevent machine operation when the protection is removed, or a control may be interlocked to make it non-operational in the event of dangerous conditions. The new ESI electromagnetic safety interlock combines the features of an electrical interlock (coil) with a mechanical interlock (actuator) to minimize hazards.
This device guarantees the safety of the operator of the equipment, which remains operative for a short time after the stop signal due to mechanical inertia of the moving parts, components under pressure or in high temperatures.
The ESI electromagnetic safety interlock is ideal for applications which require the access to remain closed and locked until any potential hazards have come to a stop or arrived at a predetermined safe state.
"The main benefits of using the ESI interlock are to further enhance the operator's safety and to enable cost saving due to a reduction in downtime" Gianluigi Abenante, International Product Manager, states. "With this launch, Carlo Gavazzi intends to expand and strengthen its range of safety products".
This device is mainly targeted at specific applications in food processing, heavy industry, high inertia machinery and industrial washing machines.
Main technical features
• Standards compliance. SIL 3 in accordance with EN 62061, PL e in accordance with EN ISO 13849-1, interlock type 2 in accordance with EN ISO 14119
• High performance. Reinforced polymeric casing with a protection degree IP65, operation range from -25°C to +55°C, retention force 1200N.
• Approvals by IMQ, CE, cULus.
• Manual unlock device for emergency
• Block controlled by solenoid
• Signals generated by solenoid or actuator
• Without electronic PCB
ABOUT CARLO GAVAZZI AUTOMATION
Carlo Gavazzi Automation is an international electronics group with activities in the design, manufacture and marketing of electronic equipment targeted at the global markets of industrial and building automation. Carlo Gavazzi Automation provides customers with technologically innovative, high quality and competitive solutions, in compliance with their requirements and expectations through its 22 National Sales Companies in Europe, the Americas and Asia & Pacific, operating with its production sites in Denmark, Italy, Malta, Lithuania and China.
For further information:
Carlo Gavazzi Automation SpA – Via Milano 13 – 20020 Lainate (MI) – Italy Marketing & Communication – info@gavazziautomation.com – www.gavazziautomation.com